Contractify and ClauseBase are offering a complete contract lifecycle solution
Contractify is partnering with Leuven-based legal software platform ClauseBase. The end result of this collaboration is that they want to offer users a solution with the aim of being able to manage the entire contract lifecycle in one place. Contractify is working togheter with various partners in order to improve their contract management software in the long term.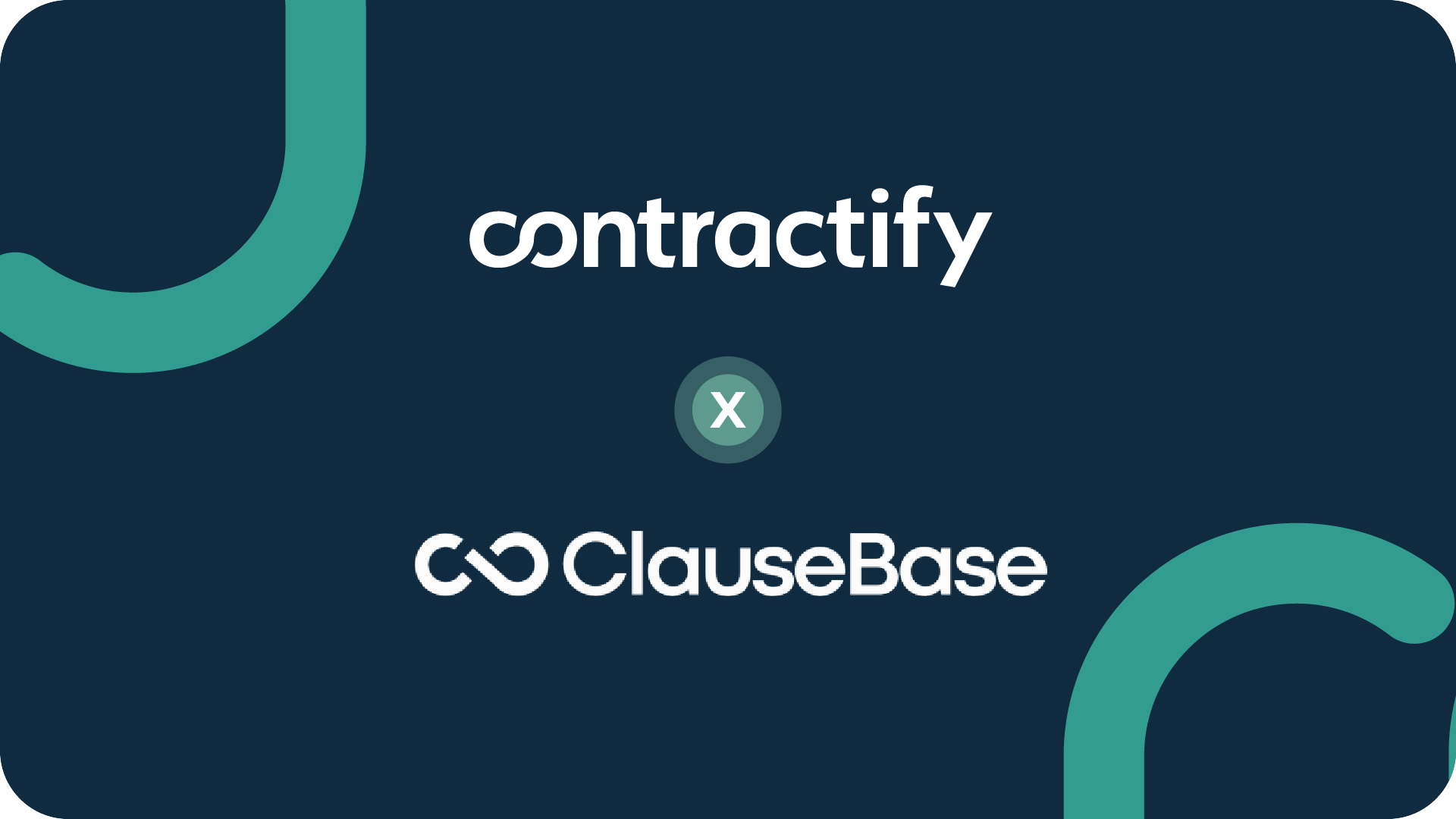 The new partner: ClauseBase
ClauseBase is run by CEO Maarten Truyens, co-founder Senne Mennes and Robbert Jacobs, former lawyers and in-house legal counsels with years of experience in drafting legal documents.
The partnership between ClauseBase and Contractify
ClauseBase is managed by Maarten Truyens, Senne Mennes and Robbert Jacobs, former lawyers and in-house legal counsels with years of experience in drafting legal documents.
In their previous lives, they were repeatedly confronted with the expensive, repetitive and time-consuming nature of drafting contracts and were not happy with the existing solutions. In 2018, they launched ClauseBase, a paradigm shift in contract drafting to make life better for anyone drafting legal documents (not just lawyers). Meanwhile, the Leuven-based software developer also launched ClauseBuddy, a Word plug-in that makes it easy to both share knowledge and automate templates.
The added value of ClauseBuddy to Contractify
ClauseBuddy is a Word plug-in that allows users to combine smart templates with a library of pre-approved clauses to ensure error-free contracts. Users can create libraries of clauses and commonly used text snippets directly from MS Outlook. By sharing clauses and supplementing them with legal knowledge, legal teams can increase the quality of their documents while speeding up the writing process.
Documents drafted in ClauseBase can be forwarded to Contractify at the touch of a button. All relevant data - from the contracting party to the effective date of the contract - are automatically exported. The solutions go hand in hand, allowing companies to streamline their contract creation and contract management process.
Solution for full contract lifecycle
"In conversations with prospects, we often hear that they are looking for a solution in which they can manage the entire contract lifecycle.", mentions the CEO of Contractify, Steven Debrauwere. "From drafting a contract, to approving it, signing it, storing it securely and following up proactively: companies want to be able to do everything in the same place instead of using a different tool for each stage."
Artificial Intelligence
Both software platforms have been exploring implementing artificial intelligence in recent years.
Contractify introduced their new AI assistant ADA this year. Ada helps companies register contracts three times faster, thus revolutionizing contract management digitization and automation.
ClauseBase uses AI to support the automation of grammatical constructions. That allows it to correctly replace mentions of persons and names of companies, including associated verbs, and refer to words, at any place in the document, fully automatically. In addition, ClauseBase also uses AI in detecting clauses of interest. The AI makes it possible to find clauses that are substantially about the same topic, even if the literal wording is very different. Users can then ask the software for alternative contractual wording, for example.
This puts Contractify and ClauseBase on the level of major international players when it comes to using AI.
This article also appeared on Emerce, Legal Tech Blog, Bloovi & Accountancy Today.