The difference between ERP & specialised contract management software
It is something we frequently hear when talking to prospects. "We already use an ERP system, so we don't need a separate contract management software". When we get into a deeper conversation, it turns out that they need it more than they thought. People very often do not realise how much time and money they are losing by not managing their contracts optimally. They assume they can manage their contracts perfectly with the contract management module in their ERP package, but most of the time this still leaves a lot of things unsatisfied. In this article, we clarify the difference between managing contracts in an ERP package or with a specialised contract management tool and what the best solution is for different situations.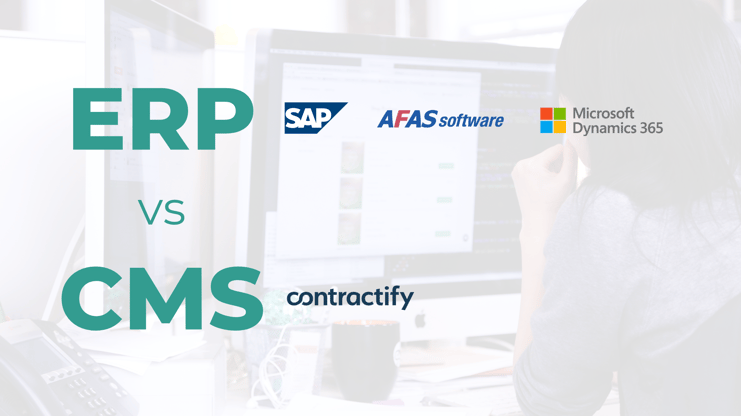 What are ERP packages?
An ERP (Enterprise Resource Planning) package is a type of software that integrates various business functions and processes into a single system. It enables you to manage your operations and resources more efficiently and effectively by providing a centralized database and user interface for various departments such as finance, human resources, procurement, supply chain, customer relationship management (CRM), and inventory management. They are often implemented by large and medium-sized enterprises to streamline business processes, improve operational efficiency, and make better data-driven decisions. Some popular examples of ERP packages include SAP, Oracle ERP, Microsoft Dynamics 365 and AFAS.
What is specialised contract management software?
As the title suggests, this is a software specialised and customised for managing contracts and everything that goes with them. A contract is a very specific type of document, often one with tremendous business value, and therefore demands a particular approach to be managed well. Contract management software is built around the contract lifecycle, a process that ensures not only that contracts are managed more efficiently, but also that the full financial potential of contracts is realised consistently, both before and after signing.
A contract management software helps organizations streamline the contract management process by providing a central repository for all contract-related documents and data. These solutions frequently include advanced features such as electronic signatures, automatic renewal reminders, and integrations with other business applications. This enables organisations to set up more efficient procedures, minimization of manual errors and a faster contract lifecycle flow. Additionally, the software helps to monitor contract performance, track key milestones, and ensure that contracts are in compliance with relevant regulations.
With specialised contract management software, you can:
digitise your contracts in less than 5 seconds
centralise all your contracts and agreements in one place
monitor contract tasks or delegate them automatically
sign and approve contracts faster online
ERP vs CMS?
What are the key differences between an ERP package and specialised contract management software that you need to keep in your head when choosing a solution for your contract management?
Large ERP solutions offer a total package of business tools so that other tools become redundant. Looking at contract management, the basic contract management modules included in an ERP package usually cannot compete with specialised contract lifecycle software. Features such as e-signing, approval flows, and automated contract follow-up are not yet embedded in the basic contract management modules of an ERP system. These modules are often limited to a simple database of metadata. Conversely, though, a contract management software can be connected to the rest of your tech stack, including an ERP system, to enrich it with specialised contract functionalities.
Ease of use
An extensive ERP system can be custom-built to an organisation's needs. This high level of customization is what makes ERP's so popular, but at the same time very complex, and it requires a lot of time, means, and training to get any sense out of it. Contract lifecycle software on the other hand focuses heavily on the ease of use and user experience (UX) to ensure users are eager to work with it.
ERP solutions are well-known for their high cost. Modern startups providing purpose-built solutions often provide more features and functionality at a significantly lower price. Depending on the size of the organisation, the features and the number of users, the price of an ERP implementation can amount to more than €500.000. Online contract management software mostly works with a subscription formula. You can often start for as little as €40 per user, per month. When you look at the more comprehensive tools with AI functionalities, this goes towards €60.
Time to implement
Considering that an ERP usually needs to be rolled out and trained throughout the organisation, a lot of time goes into this. In addition, the size of the investment also plays a big role in the implementation time of such software. Prior to installing the software and training the users, a lot of time goes into research and parameterization. On average, implementing an ERP project takes anywhere from 6 months to 2 years, depending on different factors such as the size of the organisation or the complexity of the system. With specialised contract management software, on the other hand, you can be up and running in a couple of weeks. And as everyone knows: time is money!
Here's an example of Contractify's onboarding timeline: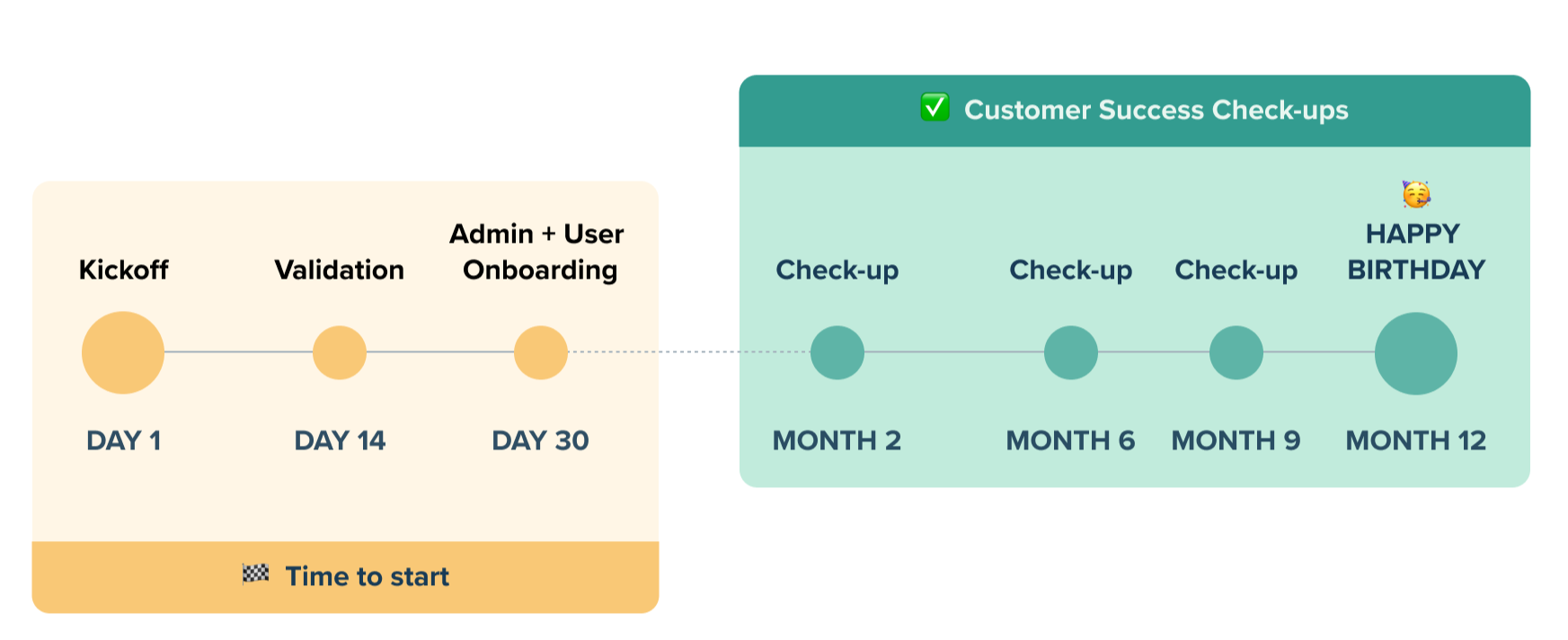 Customization
In terms of customisation, you can usually have an ERP built completely to your own requirements, depending on the investment you make. Specialised contract management software typically has fewer customisation options. These tools have a fixed range of features but because they are so focused, you often have all the tools you need to manage your contracts perfectly. In general, contract management software also provides a variety of integrations to connect the tool with in order not to compromise on modularity. This makes it feasible to alter your tech stack rather quickly to changing business needs, whereas updating an ERP would usually take a considerable amount of time to customize after it has been set up.
| | | |
| --- | --- | --- |
| | ERP | Specialized contract management software |
| Features | ++ | + |
| Time to implement | - - | ++ |
| Cost | €€€€ | € |
| Ease of use | - | + + |
| Customisation | + | + |
Would you like more information on how to optimize your contract management?