How do you simplify the due diligence process during a sale or acquisition?
When a company is in negotiations for a sale, a due diligence is involved. The due diligence period is often synonymous with weeks to months of administrative work and guarantees a higher workload for the CEO, CFO and legal. Yet, this does not have to be the case. In this blog post we give you insight into how you can approach due diligence and the associated negotiations efficiently.
What is the impact of due diligence on your business value?
Due diligence is regularly requested by potential buyers or investors of an organization. It is then checked whether
you managed the business well,

some contracts, agreements or collaborations are in conflict with the organization,

there are certain risks and opportunities associated with your business.
This sounds simple in theory. In practice, however, on average 25% of contracts or important documents cannot be found and 60% of important information is missing. Not exactly a good start to a due diligence. On top of this, investors are more likely to commit and willing to pay a higher valuation for a company they feel manages its records and corporate governance well. So the better your documentation was and the better your company performed, the greater your margin for negotiations.
In this video, Pitchdrive explains how Contractify's data room has helped their alumni to get funding faster.
How can you make due diligence go smoothly?
When preparing for an audit, it is important to
keep all information on 1 platform
for 2 simple
reasons:
you can find all the necessary information in one place at any time
you can very easily give access to the necessary documents to the right people
A data room is
a secure cloud environment for confidential business information
and
meets
the necessary criteria for due diligence
. Despite their digital nature, data rooms are nothing
new. The physical data rooms with piles of paperwork, however, have been replaced by
digital, secure data rooms in which you collect the requested documents during due diligence
and make them available to the investors or buyers. Depending on the role of a user,
documents can be consulted within a controlled and
secure environment
.
How do you set up a data room for due diligence?
You can set up a data room quickly and easily. Through the cloud you have access to a virtual
space where you can upload a folder structure. In no time at all you can make the necessary
documents available to both internal and external parties.
In our experience, a solution that allows you to have a permanent online data room can save
you a lot of frustration and time. In addition to due diligence, data rooms ensure that you don't
forget to cancel or renew contracts, and they help remind you to follow up on what you
negotiated in a contract. This way you save time and drastically reduce margins of error.
Companies that use Contractify own a permanent data room, so a due diligence doesn't require
weeks, but only a few hours of preparation. Want to know how Contractify can support your
due diligence? Book a personal demo, and we'll find a solution for your unique situation and
needs.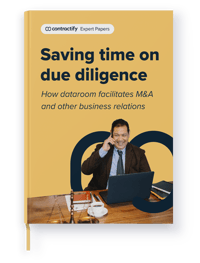 Want to learn even more about due diligence and how data rooms facilitate the process?
Download our guide and learn all about it.