Contractify wins the first ever Digital Impact Award
This year's most impactful digital transformation project for SMEs was awarded to Ada. Ada is not only the first woman to develop a computer language, but is also Contractify's latest feature. The AI contract data analysis software enables contracts to be digitised and analysed faster than ever before. This marks an unprecedented achievement in the contract management industry.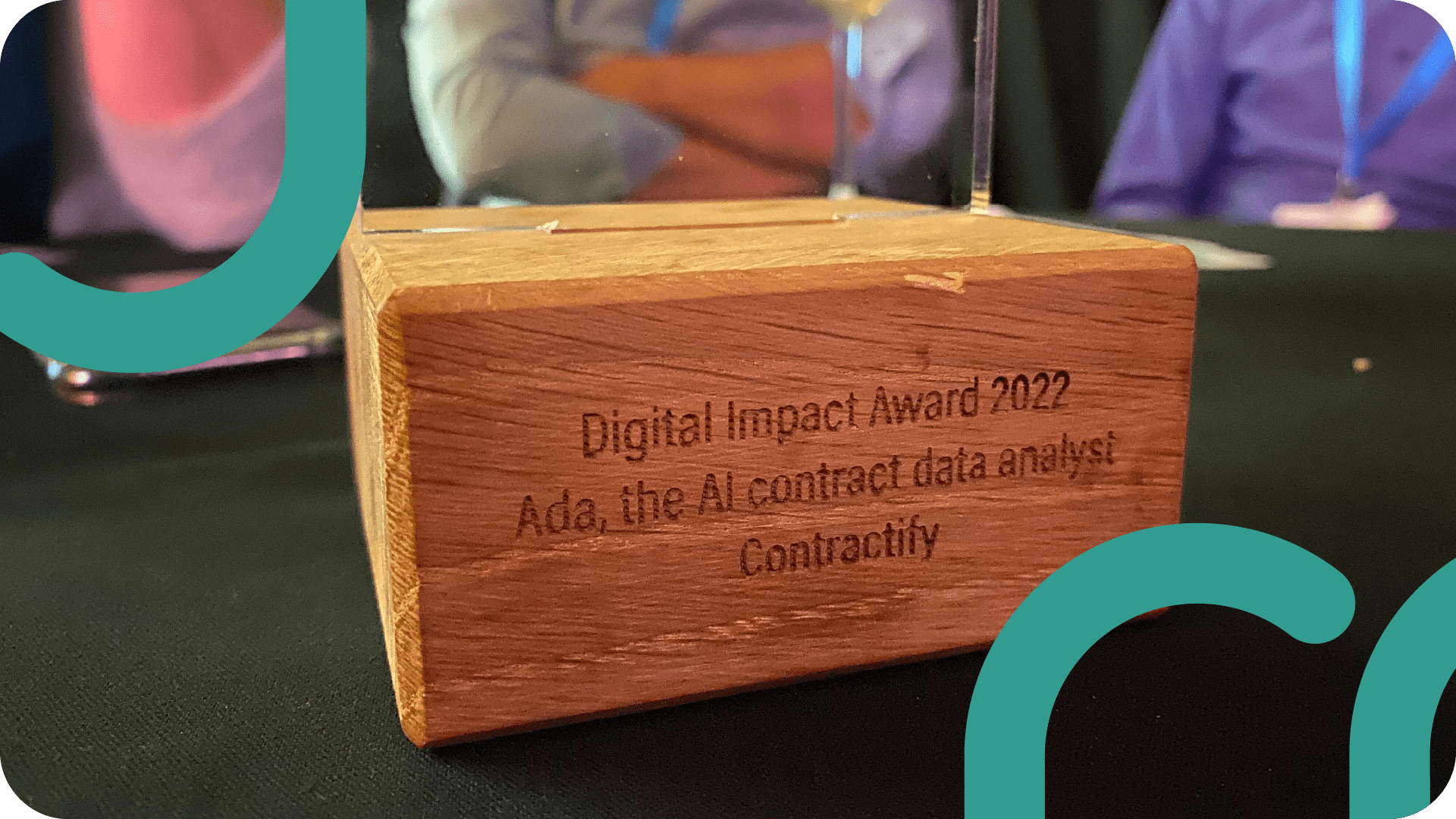 The Digital Impact Award
For the first time, the Digitize Flanders fair presented the Digital Impact Award. This award honours the most innovative digitalisation project for an SME that puts the digital transformation of a product, a process or a business into practice in an innovative or creative way with a clear impact on the results, the user and/or society.
The decision to choose Ada as the winner of this trophy was explained by Dewi Van De Vyver, Jury President and ICT Woman of the Year 2020: "Contractify has a huge impact on business-critical processes of any SME. The use of AI by Contractify saves a lot of time and increases efficiency for employees and is therefore a rightful winner of the first Digital Impact Award."
Ada, an award-worthy AI-assistant
Few AI assistants on the market live up to their users' expectations. Especially in contract management, software vendors often appear to lag behind in meeting end-user needs. Ada, the 5-second contract data analysist, changes this. Contractify's AI contract assistant reads & analyses contracts, then suggests which data is truly important for a smooth follow-up and where to find it. This way, the user does not have to spend valuable time going through endless contracts and everyone knows exactly what is in contracts in order to follow them up faultlessly. .
Unique collaboration
The Digital Impact Awards are an initiative of 5 organisations that are part of the non-profit organisation ICT KMO. With the Awards, these organisations want to inspire entrepreneurs with digital transformation projects tailored to SMEs. These organisations include FeWeb (the professional association of digital professionals, agencies and service providers), imec (the innovation centre for technology), Sirris (the research centre for technological innovation founded by Agoria), WTCB (the research institute of the construction sector founded by Embuild) and Unizo (the entrepreneurial organisation for SMEs)..
This year's Digital Impact Awards winners
Digital Impact Award: Ada by Contractify

User Impact Award: Max Mobiel Planning Platform door make it fly

Innovation Impact Award: Connecting industrial vehicles door Effitrax



This article also appeared on Feweb & Pub.
💪

Want to join Ada's winning team with Contractify?
Get started with our most powerful AI contract analyst for free with this crazy victory promo.